Nobody really cares if you don't go to the party
Written by @marcemarc on Sunday, 11 November 2018
I'm never normally one to write up a post-festival blog post covering my experience at an event, and today I make no exception, but as the dust settles on another fabulous Umbraco UK Festival, it's time to reflect on a great couple of days of a gathering of the Umbraco brethren...
This year the festival was held at The Barbican in London, which is a vast amazing myriad of corridors and stairs which don't quite connect, part crystal maze, part nineteen-seventies high school… (if you like your architecture it's well worth a visit) - fortunately, signposts and friendly faces guide you to the Umbraco Zone, congregating in the jungle-esque conservatory.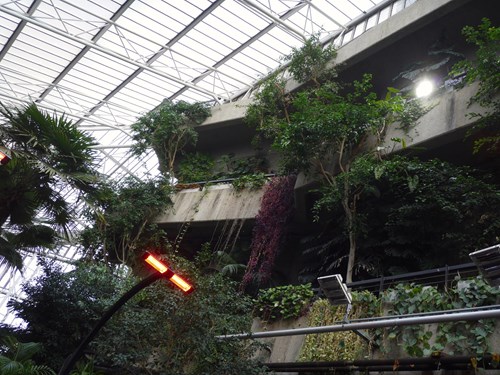 Day 1 of the festival is a Hackathon…
Because Umbraco is opensource, well developers around the world contribute, when they can, to fixes and improvements to the codebase, but often there is little chance to discuss or work with others in 'real life' - sometimes having a whiteboard, animated hand gestures, and just a combination of brains is the better way to discuss and resolve a problem.
The hackathon, which was amazingly well attended this year, is a great place to work alongside like-minded fellow Umbraco devs, sharing discussions on problems/approaches. There is a purpose, and so somehow it's easier to talk to people than at the conference, where everyone is 'just on the way to the next talk' etc… There are tasks, some easy and not so easy,  that are up-for-grabs, and members of the Umbraco HQ development team are on hand to provide guidance. It can be great to pair up with someone (yes, even someone you don't know) to try and tackle and work through an issue together. It's all orchestrated by Anthony Dang's infamous gorilla agile post-it-note driven backlog.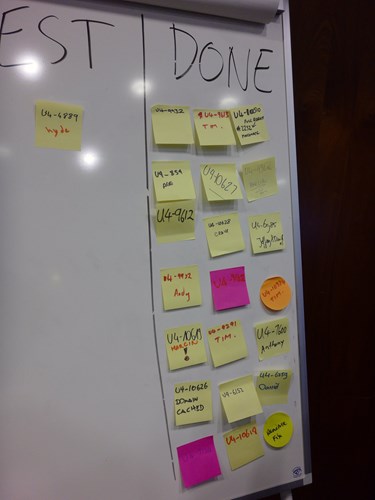 This year, there were tasks to help out with V8, along with fixes to V7 issues (fixes to V7 are still rolled into the V8 branch, so it's definitely still worth focussing on fixing things in V7). But it wasn't just about code! - this year, people also took the time to 'hack' the Umbraco Documentation repository, fixing up grammar, removing duplication and providing information on TagQuerying…
During the day, I worked upon an 'up for grab' issue in the UmbracoDocs repo about providing a tutorial on 'how to build a google xml sitemap from scratch', progress here, it needs some more work to polish it up and add some screenshots which I'll try to do in the coming weeks.
If Day 2 of the festival is all about announcing what is 'just about to happen' in the world of Umbraco, then the hackathon… sort of gives you an insight, beyond that… eg what is in the HQ development pipeline for the next year. I can really recommend the hackathon as an experience, just being there is a great learning experience and no need to feel introverted, about it being called a hackathon, it's very relaxed, nobody is standing behind your laptop - shouting 'hack hack hack'.
Day 2 - talks, talks, talks
The festival day proper kicked off with Mr Callum Whyte, he off-of the umbraCoffee program on the youtube, telling us all about the festival, welcoming, and stirring up the excitement for the day ahead. There was a 'uMatchMaker' game where every attendee had a card with either young or old pics of Umbraco luminaries on and you were encouraged to find the other attendee who had the card with the matching older or younger photo of the luminary in question, all designed to get people talking… or at least introvertedly mumbling… new and old… breaking the ice!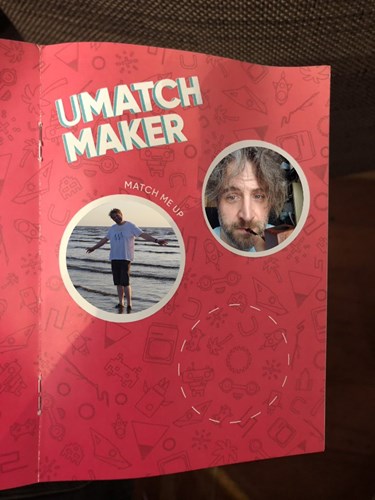 The program was split into three 'tracks', the Theatre and Main Room, were the home to the longer talks, and the Community Space, amongst the jungle for shorter 'lightening' talks and panel discussions.
I didn't see the start of Jeffrey Shoemaker's talk on 'Security - Let's have some fun with Umbraco' at Codegarden earlier this year, but he showed some great insights into how to 'hack' and in turn how to defend from 'hacking' Umbraco installations. Little nuggets you think you have covered by locking down the 'Umbraco' folder, but the realisation there are other files that can be requested and downloaded that can identify a site as 'being Umbraco', eg /config/grid.editors.config.js…. clever stuff.
I would have liked to have seen Jacquie Steele's 100 Days of Code lightening talk on at the same time as Jeffrey's security deep dive, as that seems to have been the most inspiring talk of the day, following her route into becoming a developer, setting goals and actioning a plan, sparked lots of conversations amongst attendees, about learning development and change.
Which leads into Emma Burstow's talk about 'Developing Talent' in the Theatre, Emma is a compelling speaker and insightful thinker, she spoke about how teams can nurture talent, with practical ideas - mentoring, helping Juniors develop (bad pun) dispelling the myth that it's only natural talent that makes a developer great.
Lunch
A wonderful lunch is always provided, and people spoke about the day so far, the talks are great, but sometimes it's just being there that matters, listening in to the friendly conversations and general hubbub, you start to feel it is ok to talk to people that you follow on the twitter or Github, you get over the fact that they do seem to exist in real life!
Now I'm not saying it wouldn't be an Umbraco festival without a talk from Pete Duncanson, he must be 'one of the best' around, laid back, funny, but making serious technical points, and not afraid to go against the grain to make a point. After lunch, he was talking about the query language for APIs, known as GraphQL which by golly does seem to be the obvious missing link between 'Umbraco Headless', and what frontend development needs for umm, querying data. There is an experimental github project: https://github.com/rasmusjp/umbraco-graphql started by Rasmus John Pedersen, that others in the Umbraco community have been contributing to, all very interesting… also Pete told a good joke about Mix Tapes.
Next up 'Umbraco - we're in this together', Umbraco HQ's 'Head of PR (pull requests)' Sebastiaan Janssen - talked about how in opensource, we're all in this together and can help each other, and how contributions, don't just involve providing code changes to Umbraco, even just attending the UK Festival was a way of 'contributing'! - Bug reports, forum answers, packages, documentation, feature requests etc - all great ways to contribute, he then went through the lifecycle of a PR, and showed the latest status of community PRs, and how the new Community PR teams (although anyone can help!) are involved to help process PRs to the core and to documentation.
Kicking myself for not being around for Emma Garland's talk on 'When Umbraco and Mobile App development combined' I always seem to make the wrong decisions over what to see and miss the really good talks, that everyone else rates.
Finally the keynote...
Niels Hartvig the Chief Unicorn, fresh with Brexit jokes, talking enthusiastically about the state of Umbraco, it's growth and V8 (it will be ready when it's ready) - some of the new features of V8, like Content Apps (companion apps to particular content page) and side by side comparison/preview of content, will really make a big difference to editors - more screen space to enter content too. (There was a panel on V8 earlier in the day). Niels reminds us too, that it's all about humans communicating to humans really, and finishes up, inspiring, and leaving people leaving smiling.
Close, Drinks, Hugs, Trains to catch, the UK Umbraco brethren have quenched their Umbraco thirst for another year, and disperse, mumbling about variants and content apps and possibilities, enthused…
… already looking forward to next year.
Thanks to the @cogworks for all their hard work in putting the UK festival together, you'd be a fool not to attend!